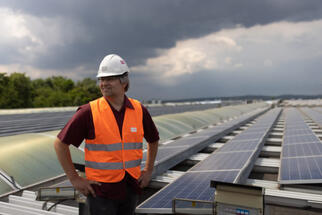 The aforementioned solar plan is thus part of CTP's long-term comprehensive sustainability initiative. "More than ten years ago, even before world institutions began to push so significantly to increase the share of renewable energy sources, we started to implement our plan leading to sustainable CTParks. We installed PV in 13 of our halls, which are still operating in our portfolio today. In addition to rooftop PV, we also partnered with a green energy company some time ago to give our clients access to 100% renewable energy, so-called energy with a guarantee of origin from renewable energy sources. And we continue with the preparation and testing of other smart projects aimed at our 'Off grid 2025-2030' initiative, the aim of which is to gradually convert CTParks into self-sufficient local distribution, production and consumption island systems," explains Pavel Šilling, CTP energy specialist. According to him, the company is also approaching the use of green hydrogen in larger CTParks.
With the turn to renewable sources, the Czech Republic proceeded to announce subsidy calls. CTP applied several of its projects to the first wave of the Modernization Fund and succeeded in obtaining financing for projects above 1 MWp in the Moravian-Silesian Region. Thanks to the subsidy, CTP will receive approximately 120 million crowns to build PV plants on six roofs in CTPark Ostrava and two in CTPark Nový Jičín, which will cover approximately 30 percent of the total investment costs. CTP succeeded with five other Brno halls in the Modernization Fund subsidy call for projects under 1 MWp, for which it should receive 26 million crowns. The developer is also planning to participate in further rounds of subsidy programs.
The modernization fund requires the completion of the PV plant within five years of receiving the subsidy. CTP aims for a shorter period, the company would like to install, approve and connect most of the halls to the distribution network by the end of 2023. Currently, all documentation and tendering for the implementation of PV projects are being prepared. CTP wants to start the installation itself at the end of the summer.
"We are constantly trying to find and long-term follow new, more economical and efficient work procedures and solutions that will contribute to higher quality and lower energy consumption of our buildings. We are doing so in accordance with our long-term vision of being an inspiring leader setting trends and setting the strictest quality standards in industrial development, and at the same time fulfilling our commitment to our investors," adds David Chládek, director of CTP for the Czech Republic.