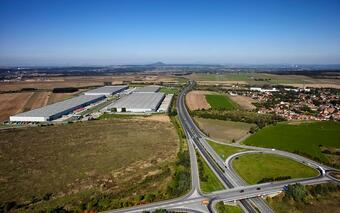 CRUSSIS Electrobikes s.r.o. will become part of the lively business community of Prologis Park Prague-Úžice, sought after thanks to the buildings that Prologis has tailor-made for its existing customers. CRUSSIS will lease the entire 21,000 square meters of building 4B in the park for a long time. The transaction was mediated by real estate agent Marek Sýkora.
"We are excited to welcome CRUSSIS to Prologis Park Prague-Úžice," said Anna Jůzová, Prologis Leasing and Customer Experience Manager.
"Of course, the location, sustainable elements and the overall friendly atmosphere of the park also played a role in the customer's decision to move to the new location, however, the tailor-made solutions we designed for the company were decisive. We can't wait for further cooperation, during which our priority will be to fulfill all the wishes of CRUSSIS and help get their innovative products to even more customers."
Part of the space for CRUSSIS will be a wide range of elements that increase operational efficiency and support the wellbeing of employees. Powerful LED lighting with motion sensors and daylight intensity sensors will contribute to the optimal electricity consumption in the production part of the building. Electric batteries, which CRUSSIS installs in its products, will be stored in special internal storage areas. Skylights then provide enough daylight, which has a positive effect on the health of employees.
"Our business is based on innovation, so we had special demands on the new premises," describes Petr Výkruta, CEO of CRUSSIS.
"We are very much looking forward to starting operations in the new building. The solutions selected for us by the Prologis team exactly meet our requirements, and we hope that the move to a new facility will support the further development of our business and further increase the satisfaction of our employees."
The ongoing construction in Prologis Park Prague-Úžice confirms the high level of interest in the location located 9 kilometers north of Prague by the D8 motorway. The park offers a combination of Prologis' pro-customer approach and services with state-of-the-art development that brings more than just four walls and a roof, and convenient connections to both the capital, Prague Airport and foreign markets.
Whether it's protecting the planet, supporting growth or creating a quality environment for employees, an innovative approach is… Made in Prologis.
Source: // Retrend