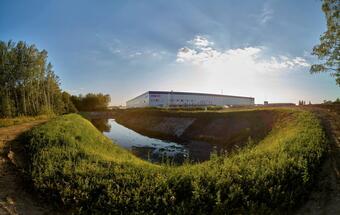 "Panattoni's development across Europe demonstrates the sector's resilience to a pandemic on the one hand and general economic trends on the other. The volume of space for e-commerce increased significantly - within our development portfolio by 20% in the third quarter. Involvement in imports of dependent manufacturing companies and distributors, who faced supply chain disruptions in the first phase of the pandemic, has increased. 2020 is a year of revolutionary change, making the industry the most attractive real estate segment," said Robert Dobrzycki, CEO of Panattoni.
"I have been working in industrial development for over 20 years and I have not remembered such a critical situation in the field and the whole economy. Nevertheless, our development in the Czech Republic and throughout Europe is 'moving' and creating new jobs, thus keeping the economy in a relatively decent condition. I take it as our task in the fight against covid - not to allow companies to lack the infrastructure to develop and supply the market," says Pavel Sovička, Panattoni's director for the Czech Republic and Slovakia.
KION Group, Lindab, Raben, Coca-Cola, Mail Order, DHL Express. These are renowned brands for which Panattoni built new production and logistics buildings in the third quarter. The largest hall with an area of ​​25,000 m2 was supplied by Panattoni Park Stříbro. The builder of industrial zones received the most significant award in Cheb, where he built a hall for Real Digital with the highest global score within the BREEAM environmental certification according to the latest standards.
The Europe 2020 study: Ecommerce Region Report expects e-commerce in Europe to reach € 717 billion by the end of 2020. It will therefore increase by 12.7% year-on-year. However, the full impact of the coronavirus pandemic will not become apparent until later. Western Europe is the most developed in this respect, accounting for 70% of pan-European e-sales and also having the largest percentage of people shopping online (94% in the UK and 84% in Germany and the Netherlands). However, Eastern Europe is currently experiencing the largest growth, with up to 30% in Romania and Bulgaria.
Source:// Logisweb