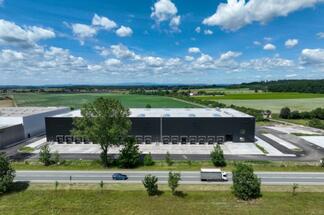 "I believe that CTPark Hradec Králové will help with the development of the locality and bring many new opportunities for enriching not only the business environment in the Hradec Králové region. I would also like to thank the city representatives for their cooperation, on the basis of which we carried out infrastructure modifications beyond the scope of the original project, which lead to an improvement in the flow of traffic around the site," emphasizes David Chládek, director of CTP for the Czech Republic. In addition to the hall, CTP also built a new traffic light intersection in cooperation with the city, which is connected to the city's central transport system.
In the spring of 2023, the second hall with an area of ​​over seven thousand square meters will be completed. Part of the building is already leased to a tenant who will store pharmaceutical goods there. Two more units suitable for storage, logistics or light production are available. The area also includes the so-called CTBoxes, which offer three functions in one – retail, office and space for storage or light production. The units are suitable for smaller local companies and various commercial activities such as e-commerce, car service, etc.
"I am very happy that we managed to establish meaningful cooperation with CTP despite the historical events. It is confirmed that it is possible to solve practically every complex problem by working together. In addition to the fact that a modern campus is being built on the outskirts of the city, which will expand business and work opportunities, we are also cooperating with the developer on the development of the city," adds Alexandr Hrabálek, mayor of Hradec Králové.
According to the developer, the entire area is characterized by the use of advanced technologies and construction solutions. There will be elements for more efficient and economical use of resources such as rainwater retention systems, gray water use, waterless urinals or smart LED lighting. Certification as part of the BREEAM ecological sustainability assessment will be a matter of course.