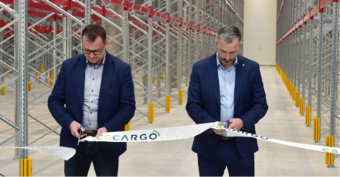 The new distribution center is located in the CSPPark project in Planá nad Lužnicí. With an area of ​​more than 18,000 m2, it can hold up to 26,000 pallets. It has the latest technology and offers about 40 jobs for residents of the region. The project is conceived as the consolidation of shipments from the company's two main production plants in the Czech Republic to one logistics center. Here, C.S.Cargo will provide other value-added services (such as mixing or repacking pallets according to the client's wishes) and distribution to final customers in countries in the European Union. The plan is 40 thousand pallets in / out with the service of approximately 1400 trucks per month.
"The logistics center project is one of our biggest investments this year and at the same time another step in strengthening the national retail market, where the main wish of our clients is perfectly processed logistics. We are thus expanding our operations in the area of ​​South Bohemia, "describes Michal Vecsey, Sales Director of the C.S.Cargo Group.
The construction of the distribution center located in the industrial zone near the D3 motorway proceeded without major complications, although it was built during the covid-19 pandemic, which hid many risks due to the unpredictability of the development.
"Consolidating our shipments into a single logistics center was a necessary step to streamline our distribution channels across Europe. A significant benefit is, of course, the logistics services from C.S.Cargo, which will increase the flexibility and quality of our deliveries, "explains Petr Ludvík, CEO of Partner in Pet Food.
"It is gratifying that a stable company of a transnational character is coming to the industrial zone with the new distribution center. I believe that it will bring our job above all other job opportunities, "says Jiří Šimánek, the mayor of Planá nad Lužnicí.
Source: // Systémy logistiky