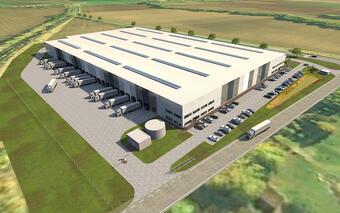 Developers are responding to this with increased activity. Despite the lower volume of completed projects in the second quarter (86,300 m2), projects with a total capacity of over 600,000 m2 were in the implementation phase in this period under review. In this respect, too, this year could bring record results. Results as well as the vacancy rate, which fell to 2.2%. And, for example, in Prague or around Brno, it is practically impossible to obtain halls over 2,000 m2.
"Despite robust construction, due to the higher price of building materials and the lack of capacity in the construction industry, the market is facing deadlines, and therefore also a lack of leasable space. In combination with the absence of development land and their rising price, we are seeing an increase in rents across the Czech Republic to the level of 5.3 EUR m2 / month, "describes Dušan Drábek, Head of Industrial and Logistics Real Estate Leasing at BNP Paribas Real Estate.
From April to June, a total of 410,300 m2 of warehouse and production space was leased. The year-on-year increase in new leases is 52% to 271,000 m2. The demand is mainly due to the operators of logistics services and companies from the e-commerce and retail sector. Summaries of the development of demand are documented by specific rental transactions. One of the most active was FM Česká s.r.o., which extended the lease agreement and at the same time expanded in P3 Park Lovosice (a total area of ​​60,600 m2) and at the same time extended the agreement to more than 20,000 m2 in P3 Prague D11.
Other large leases in the 2nd quarter also include the occupation of 25,000 m2 in VGP Park Prostějov by the retail chain OKAY. In the first quarter, he leased warehouse space in VGP Park Vyškov. Both of these warehouses will enable OKAY to cover the Czech and Slovak markets.
The trend of growing interest of companies operating in e-commerce and retail in the expansion of warehouse space is confirmed. After all, retail also affects ongoing construction. For example, for the e-commerce giant Alza, the developer GLP is building a hall with an area of ​​36,000 m2 in Chrášťany near Prague. The warehouse complex in Bor u Plzně, backed by the development company CTP, is almost double. It will be staffed by the expanding logistics service provider for dm drugstore Loxxess.
"Over the next 18 to 24 months, the key issue will be a new supply of warehouse space. Nevertheless, as early as January, we predicted that the total capacity of modern industrial real estate could reach over 10 million square meters this year. Rising demand confirms this prediction. If there is no further turbulence, this limit will be exceeded with the new year 2022, "says Kamila Breen, head of consulting and market research at BNP Paribas Real Estate.