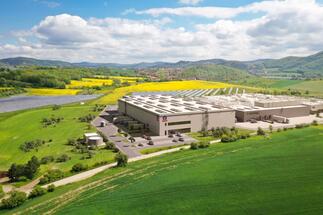 "The basis of our investment strategy is the diversification of the real estate portfolio in the fund. For a long time, we have been striving to purchase a property in the wider vicinity of Prague, which would not only bring immediate rental income, but also have free land available for new development. Thanks to its location on the D5 motorway, between exit 28 and exit 22, the location offers immediate development potential. The current tenant has a quality international D&B rating of 2A1. An important factor for us is that the tenant is interested in operating in the locality for a long time, which is confirmed by an extensive investment program into the latest technologies. We are pleased to welcome company Hronovský to our portfolio of premium tenants, "said Lubor Svoboda, co-founder of the ARETE Group.
"Above-standard equipped industrial complex completed in 2005, which has almost 14 thousand sqm of leasable area with the possibility of expansion by another almost 12 thousand sqm. The existing buildings fully comply with the most modern standards required for production and modern methods of storage, incl. e.g. building height and technological equipment. From the point of view of the availability of manpower, the complex benefits from the proximity of the towns of Beroun and Zdice. At present, the company produces in four plants in the Czech Republic and in one in Bulgaria, when in 2020 the company expanded its production in modernized premises in this property in Zdice, "explains Robert Ides, co-founder of the group.
"The completion of this transaction is the second of a total of five anticipated transactions this year. By the end of 2021, we would like to value of 1.5 billion Czech crowns in assets under management, consisting of yielding assets and our new developments", concludes Lubor Svoboda a very positive assessment of this transaction and the current development of the third fund.