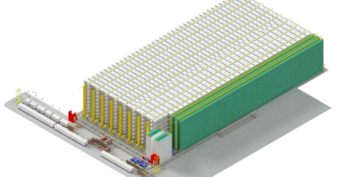 It is very important for us to ensure effective cost management for our partners in more than 185 countries and to maintain the pace of development of investment projects characteristic of our company," says Jekaterina Stuģe, CEO of Amber Beverage Group. "Most of our investment will go to hi-tech equipment for our new warehouses. This confirms Amber Beverage Group's ambitious plan to become one of the ten most influential and modern global players in the spirits industry," says Jekaterina Stuģe.
Logistics operations automation project
"We are pleased that ABG will implement a project to automate logistics operations on such a scale. Due to its scope, complexity and level of automation, this project is important not only at the Baltic level, but also for the whole of Europe. We will install modern crane stackers for pallets and small goods, pallet and small goods conveyors, pick-by-light and put-by-light automatic picking systems and connect them to a powerful warehouse management system," says Māris Supe, Sales Manager at Jungheinrich Lift Truck for the Baltics.
The project is being implemented in cooperation with AI Engineering specialists, with ABG investing more than 33 million euros in the project. In the first phase of construction, storage, completion and issuance of orders, including administrative space, will be automated in an area of ​​more than 24,000 m2.
The automatic high-rise warehouse does not require the presence of employees
The automatic high-rise warehouse does not require the presence of employees and all processes will take place fully automatically. The total height of the warehouse will reach 24 meters and the pallets will be stacked on shelves on more than 9 floors. The company's current storage capacity is 25,000 pallet places, while the new warehouse can hold 35,000 pallets at a time and, if necessary, its capacity can be expanded to 45,000 pallet places. As part of the construction of the new warehouse, the three existing warehouses of the Amber Beverage Group will be merged into one and the planned flow of goods in the new warehouse will reach 360,000 processed pallets or approximately 33,000 TEU per year.
Source:// Systémy logistiky