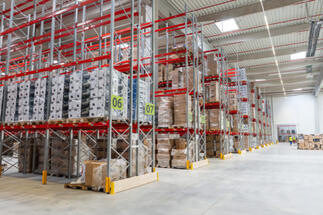 Concept has been thinking about changes in the functioning of its warehouses for a long time. "We have been thinking about the new central warehouse and implementing this project for more than two years. We decided to take this step for several reasons. First, we need to increase our storage capacity, which would not be enough in a while. Yes, we could have added another smaller warehouse, but our next intention was to move the central warehouse in Chocna to a new and larger central warehouse," says Director of Logistics Lukáš Filip. In the warehouse in Chocna, which is connected to the logistics center of the Concept company, only products for the e-shop and for the newly emerging chain of branded experience stores will be stored. The other products are already transported to Týniště nad Orlicí.
"Until now, we had 7 warehouses, which was difficult for logistics and extended the delivery time. With one large warehouse, we want to ensure that the customer receives the ordered goods as quickly as possible. The warehouse in Týniště is 8,000 square meters in size and allows us to store most of our goods," adds Lukáš Filip.
The construction of the warehouse took 7 months from the very beginning. The size of the entire hall is 16,000 square meters, Concept has a dedicated half. The storage space will allow you to store exactly 9865 pallets and the space is divided into two sectors. The larger sector A can hold over 7,000 pallets and the rack cells are 193 cm high. In sector B, the shelf cells are 50 cm higher, so refrigerators and wine cabinets are mainly stored in this part. In terms of handling equipment, the warehouse is equipped with three retractors, five electric low lifts and one frontal low lift with forks and tongs. Also included are charging stations, thanks to which the technology is charged, and a horizontal wrapping machine, which facilitates the packaging of goods. An energy-saving element is, among other things, the lights in the storage aisles, which turn themselves off when no one passes by for a certain period of time.
The warehouse has 7 ramps that will be folded to load goods, and in the back there are other ramps that will be used for unloading. Now, an average of 150 pallets leave the warehouse a day. There are currently 8 employees and part-time workers used to repackage goods.