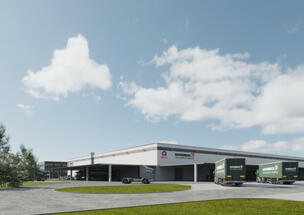 The complex will offer almost 30,000 square meters of modern storage and office space. At the same time, the project will take into account ESG standards with regard to the strategy of the Arete group. The tenant will also benefit from the hall's strategic location near the D5 highway.
"The start of construction in Arete Park Rokycany 2 is an important step for our group in building a stable portfolio of our third Arete Industrial fund. The area is attractive for logistics companies due to its close proximity to the D5 highway, which is the main traffic artery connecting the Czech Republic with Germany. Thanks to our own team, which ensures the entire development process, we are more flexible and can meet all the tenant's requirements. We greatly appreciate the fact that the long-term tenant will be the renowned logistics service provider Duvenbeck," comments Lubor Svoboda, co-founder of the Arete group, on the start of construction.
Duvenbeck is a company with more than ninety years of tradition, an annual turnover of over 920 million euros and currently more than 6,000 employees who work in more than 35 establishments in eight European countries. The Czech branch of the company was founded in 1996.
"For the Duvenbeck group, this is a strategic project that will be one of the most important in the Central European region. We are pleased that the developer and owner of the industrial park is a fund from the Arete group. We appreciate the high expertise of the entire Arete Group team, which was able to prepare a project meeting all our requirements in a relatively short time. The park's excellent location fits perfectly into our group's network of key European storage and distribution centers," says Oliver Röhl, CEO of Duvenbeck Czech Republic.