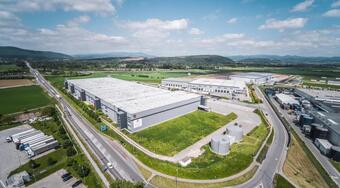 "The Slovak market is strategic for the further development of our fund. After the acquisitions we have made over the past two years, we have also embarked on our own development, "said Lubor Svoboda, co-founder and chairman of Arete Invest's board of directors for real estate investment.
Also a new tenant
The international Factcool network has been operating in the new 17,300 square meter warehouse since June. "Arete Park Nové Mesto was chosen for its excellent location as the headquarters for our further expansion. The location is unique for its workforce availability and its connection to the motorway network. In addition, our new central warehouse reflects all modern trends in industrial real estate, "said Jan Skopeček, director of FC ecom, operating in the Factcool Group.
In the new warehouse at the D1 highway in Nové Mesto nad Váhom, the Factcool Group has been operating since June 1 and is gradually consolidating its operations for the Central and Eastern European market.
Hundred places
Construction of the building began in July 2018. The tenancy contract is ten years after the completion of the building. The new tenant will create more than 100 jobs in the park.
At the same time, the construction of the hall expanded the infrastructure of the entire New Town area, where 49 thousand square meters are currently being prepared for further construction.
www.retrend