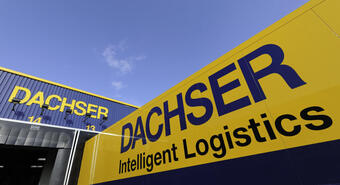 DACHSER Ostrava is now operating in larger modern premises tailored by developer CTP . In addition to the expanded area for the transhipment of groupage consignments, the new branch will also offer an area for storing more than 3,000 pallets. The warehouse terminal with 15 loading bridges is also equipped for short-term storage of dangerous goods according to ADR agreement.
"The new reloading terminal will enable us to make our processes even more efficient - it will speed up the reloading process both at the entry and exit," explains Ing. Jan Polter, MBA, Sales and Marketing Director of DACHSER Czech Republic , adds, "The terminal also includes a spacious zone for additional value added logistics services."
DACHSER Ostrava offers deep logistics know-how in contract logistics. "Our experienced and trained staff can provide our customers with a full spectrum of contract logistics, including value-added services such as repackaging and sorting of goods, quality control of input / output materials, technical preparation for production processes and more," explains Ing. Radomír Němec, DACHSER Ostrava branch manager .
The combination of warehouse and contract logistics services with immediate connection to the European DACHSER collection network is the ideal solution for customers looking for comprehensive solutions. In addition, DACHSER continues to expand its direct collection service. "We deliver from Ostrava with excellent delivery times to Italy, Germany, France or Spain, for example, we can now offer our customers 24-hour delivery to Poland," concludes Radomír Němec .
Source / photo: www.retrend.cz / Industrion Boutique sro