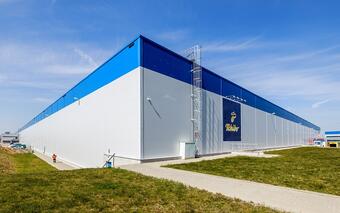 Harry Bannatyne, Partner and Industrial Director at Colliers, said: "At Colliers, we are very pleased to be able to participate in the expansion of Panattoni Park Cheb in cooperation with Tchibo and Panattoni. Tchibo, which successfully operates its distribution center in this well-established industrial park, regularly expands its capacity here, which only proves how important this location is not only for Tchibo, but also for other clients using Panattoni's quality buildings and services.
We value the long-term trust that Tchibo places in us. Thanks to great relationships with Panattoni, we were able to provide the quality space that our client needed. Coincidentally, this is the largest brokered transaction in the industrial real estate market in the first quarter of 2021. With the total area of ​​the Tchibo distribution center, which will now increase to 102,200 m2, it is also Colliers' largest transaction. We are looking forward to other significant transactions such as this one and also to further cooperation with both Tchibo and Panattoni. "
"Tchibo has become a symbol of the industrial boom and economic growth in Cheb, which is beginning to make full use of its geographical location as the second gateway to Germany after the Pilsen region. This clearly confirms not only the growing attractiveness of the region but also the steady growth of the e-commerce segment. Unique to this large-scale project is the fact that the entire building has a single tenant, "said Pavel Sovička, Panattoni's CEO for the Czech Republic and Slovakia.
The Tchibo distribution center is used for storing, picking and sending goods to end consumers in seven European countries. After the expansion of the hall, Tchibo will be able to handle more than 50,000 pallet places, which will ensure the company's sufficient capacity even during peak hours before the Christmas holidays. The expansion of the hall aspires to the "Excellent" rating within the prestigious BREEAM New Construction environmental certification according to the latest standards.
Source:// Retrend