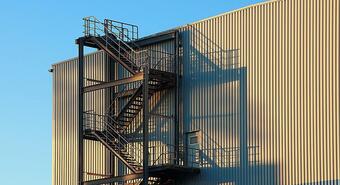 Another project in Paris - Chapelle International of the Sogarise development group - has another dimension. It is a modern neighborhood with apartments, office space and even a farm. Most 4.5-hectare properties are multi-level: warehouses are usually located on the ground floor, while apartments or kindergartens and schools are located on higher floors.
The change is also becoming apparent in Germany. For example, Four Parx has already announced at Expo Real 2018 that it will build three multi-storey logistics halls with a total area of ​​215,000 square meters. "With rising land prices and decreasing availability, vertical warehouses in Germany are already worthwhile," explained Franzisco J. Bähr, Managing Partner at Four Parx GmbH .
"Similarly designed ramps are expensive, so they only pay off in locations with high land prices," says Bastian Hafner of BNP Paribas Real Estate in Germany . So far, they are being developed in the most exposed regions, where land is one of the most expensive in Germany. And here it is shown how vertical storage projects are economically viable.
In the Czech Republic, multi-storey warehouses are still the exception. An example is the DHL Supply Chain distribution center for the Primark clothing chain at CTP Park Bor near Tachov, which supplies Germany and Austria. Extensive storage areas are used both on the ground floor and in the mezzanine. "The price of land is also increasing in the Czech Republic and the offer decreases. However, the costs of construction and technical solutions are high and therefore their construction will continue to be limited, " comments Lenka Šindelářová from BNP Paribas Real Estate .
CTPark Bor
If we look at the region of Central and Eastern Europe (CEE), here is probably the farthest Poland. Amazon is building a two-storey warehouse with a mezzanine with an area of ​​161,500 m2. According to all indicators, a center near Lodz will also have a similar concept, which also includes full robotization.
Source / photo: www.retrend.cz / BNP Paribas SA, Czech Republic office / Cover photo (www.pixabay.com)