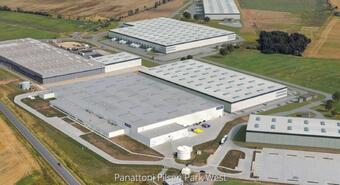 The first building in the industrial zone is already standing and used by tenants Maurice Ward and IAC. The second building will be completed by the end of the year and will be moved to Filtration Group and Groupe Plastivaloire . The transaction is mediated by CBRE .
"The transaction is a good example of the current Czech investment market, where Czech investors are among the most active buyers. In 2018, Czech capital stood at 63% of the volume of real estate acquisitions. With the growing inflow of money into Czech funds, the strength of domestic capital is growing. These investment groups significantly increase the liquidity of the Czech market. Compared to other Central and Eastern European countries, the Czech market is the most developed in this respect , " says Vítězslav Doležal, Associate Director of Investment Properties at CBRE .
"This is a premium product with high-quality international tenants. The transaction is consistent both in terms of volume, utilization, as well as the set location strategy of the fund, allowing diversification of assets and within the Fund, " adds Vít Svoboda, Real Estate Portfolio Manager Raiffeisen investment company .
"Yield premium for industrial buildings is currently moving at 5.5%" , says Jana Prokopcová, Head of Research and Consulting at CBRE .
Raiffeisen real estate fund invests in quality verified real estate. It focuses on administrative, logistics and warehousing facilities, retail buildings, multifunctional centers and retail parks. His portfolio includes the Písek Gallery Shopping Center and the H-Park Retail Center in Brno.
"I am delighted that we have been able to get more quality properties during the first two years of the fund's existence. The total volume of assets of approximately CZK 1.6 billion confirms our investors' interest and the fund's strategy is well set, " says Jaromír Sladkovský, Chairman of the Board of Raiffeisen Investment Company.
At Panattoni Park Pilsen West he builds one production hall for two tenants
The fund is suitable for investors who want to benefit from real estate investments but do not have sufficient capital or the ability to own and manage the property. The minimum amount is CZK 500 and the entry fee is 1.5 percent.
Raiffeisen real estate fund manages investment in domestic real estate for more than 1.6 billion crowns and its goal is to double this volume. The yield for 2018 exceeded four percent. The fund is open to new investors from early May to 24 June.
Source / photo: www.retrend.cz / CBRE sro / Panattoni Czech Republic Development Ltd.