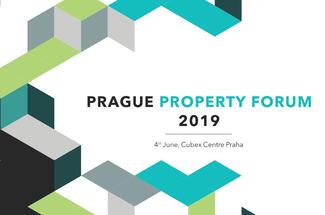 "The presentations and discussions of Prague Property Forum 2019 will focus on technology and innovation as they are rapidly changing the real estate industry. Digitalisation has affected the entire property development cycle starting with the early design, project management, leasing, sale process and long-term asset management. But it's not only about newly-built schemes, existing properties can also adopt many of these innovations. I'm delighted that representatives of companies that have prepared and have been using such digital solutions had accepted our invitation to share their experience with us," said Csanád Csürös, CEO of Property Forum.
The full-day agenda of Property Forum Prague will cover a wide range of topics. The morning section will feature keynote speeches from the European leadership of RICS, well-known economist Tomáš Sedláček and global proptech guru James Dearsley. Following a panel discussion featuring key property investors from the CEE region, the second and third sections of the conference will cover individual market segments. Inspired by James Dearsley's speech, panellists will discuss how new technologies affect their chosen field.
The second section of the day will focus on user experience. A diverse group of experts will talk about smart buildings, sustainable development and workplace solutions. The third and final section of the day will deal with current trends on the hotel and retail markets and also the effects of digitalisation on the valuation business. At the end of the conference, a number of innovative companies from the Czech Republic will have the chance to introduce themselves in the PropTech pitch section.
Prague Property Forum is going to take place on June 4, 2019 from 9:00 to 16:30 at the Cubex Centre in Prague. Organisers expect over 30 speakers and more than 200 participants in total. The event takes place for the third time in Prague.
Notes for editors:
Property Forum is a leading media and event platform in the CEE real estate industry with nearly 10 years of experience. Besides organising real estate conference in Vienna, Prague, Bratislava, Budapest, Bucharest, Warsaw, Belgrade and other European cities, Property Forum also runs a CEE real estate intelligence platform which covers breaking news, deals, capital market transactions, executive moves and industry trends every day.
RICS is the world's leading professional body for qualifications and standards in land, property and construction. The RICS (Royal Institution of Chartered Surveyors) is an international organisation with more than 140,000 real estate professional members working in 146 countries around the world with over 100 members in the Czech Republic.

The RICS is responsible for setting global standards in the regulation of the real estate profession by maintaining professional and educational standards, working towards strict ethical regulations and endeavouring to ensure independent and objective client counselling, analysis and supervision in all areas of real estate.

Contacts:
Markéta Miková, PR Manager of Prague Property Forum, tel: +420 739 057 684
Anna Orscik, Regional Manager of RICS Central & Eastern Europe, tel: +36 20 262 88 92
Csanad Csüros, CEO of Property Forum, tel: +36 30 235 81 49