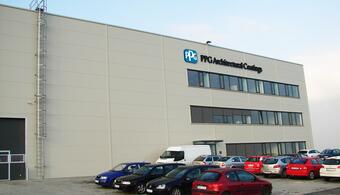 PPG Deco Czech opens a new distribution center for the Czech Republic and Slovakia
PPG Deco Czech, a producer of Primalex and Balakryl paints, opens its new distribution center in Modřice near Brno, where it leased 6,500 square meters from CTP Invest. The warehouse will supply the whole of Moravia and the western part of Slovakia. Suitable industrial premises were provided by Cushman & Wakefield.

"The reason for moving the warehouse was to centralize logistics activities and save operating costs and working capital," says Petr Havlena , Logistics Director at PPG Deco Czech.
PPG Deco Czech rented 30% of the total area of ​​the MO17 hall in CTPark Modřice II. The premises were handed over at the end of February and the company launched its operations here on March 1st. The tender for the new premises was led by Cushman & Wakefield. "The client was primarily focused on the Brno location and surroundings," says Jakub Kodr , consultant at Cushman & Wakefield and adds:
"CTPark at that time found in the highest stage of readiness, and this was coupled with a convenient location near D1 decisive." "With this project, we continue the previous successful cooperation, the company PPG leased office space in the Spielberg Office Center in Brno," says Tomas Budař , Regional Director at CTP, adds: "It is confirmed that Brno is a location that clients are still very interested in."
Source: www.czech-industrial.cz