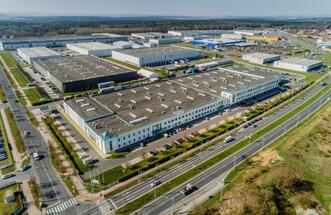 "It is important to realize that nowadays industry 3.0 is in the Czech Republic due to wage increases - digitization, automation and robotics. This also brings new demands on the technological change of older buildings or the construction of completely new ones. As one of the first we decided to start the reconstruction of the already standing hall. Old industrial buildings are often unsuitable for renovation and the new ones have not yet grown so old. This is a natural development, but with the new generation of industry coming up with new demands. Foreign investors and local start-ups closely monitor the offer of suitable locations for their future high-tech operations. We would like to bring Industry 4.0 and high value-added production to the renovated hall, ".
Capital Market Director Karel Klečka adds: "This product is in line with our strategy to revitalize brownfields in attractive locations and give new objects to older buildings. Borska pole in Pilsen is one of the most attractive locations in Central Europe. "
Panattoni Pilsen Digital Park
Panattoni Pilsen Digital Park, a new generation industrial zone focusing on Industry 4.0, is also to be built in this area. Panattoni Europe Industrial Zone Builder wants to transform the former Škoda Plzeň site into a modern technology center. The 28-hectare large brownfield is currently empty, but has excellent infrastructure and is well connected to the surrounding industrial operations. The intention of Panattoni Europe is in line with the current development strategy of the city of Pilsen and has already successfully passed the environmental impact assessment EIA. The total investment is estimated at more than CZK 2 billion.
Source / photo: www.retrend.cz / Panattoni Czech Republic Development sro