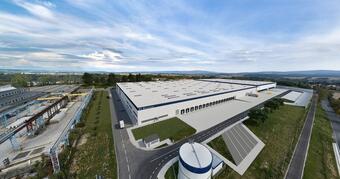 AUTODOC comes from Berlin. It is one of the fastest growing companies in the automotive spare parts industry. Thanks to its successful expansion, the company is now active not only in Germany, but also in further 26 European countries. AUTODOC is strongly customer-oriented through social media activities, technical support in the local languages of the countries in which it operates, and a product range that adapts to current demand. The product portfolio includes approximately 4 million products from 1.400 manufacturers across 166 cars, 23 trucks and 154 motorcycle brands.
"The expansion of AUTODOC to Cheb is a reflection of the growing interest in expanding the e-commerce infrastructure, which has been evident in recent years not only in the Czech Republic, but throughout Europe. We are all buying an increasing proportion of our consumption in e-commerce. We are glad that a very important part of the e-commerce infrastructure is being implemented in a brownfield site and a green mecca for modern commerce is being created from a dilapidated area," said Pavel Sovička, Managing Director CZ&SK, Panattoni.
"The new warehouse in Cheb, as the third warehouse besides Berlin and Szczecin, enables us to be even closer to our customers and to further shorten our delivery times. With the opening of the new location, we want to keep up with our strong growth as a company and are pleased to have such strong partners as Panattoni and Accolade at our side," said Sven Herrmann, the S-VP of Supply Chain Management of AUTODOC and Managing Director of AUTODOC Logistics Sp.z o.o.
Panattoni Park Cheb South is a brownfield project of the industrial zones developer Panattoni on the site of the former engineering plants. During the redevelopment, 90% of the construction and demolition waste was recycled. The first building, tenanted by Kaufland eCommerce Fulfillment, received the highest level of sustainability certification, 'Outstanding', and a record score of 90.68% according to the BREEAM global sustainability certification, making it the world's greenest industrial building. Panattoni also started preparatory works for the construction of additional buildings in the nearby Panattoni Park Cheb industrial zone.
Near the park there is the I/21 road which connects to the D5 motorway leading from Prague to Rozvadov. There is a public transport bus stop directly inside in the park. The European rail corridor from Prague to Nuremberg passes through the town and a local railway line provides rail connections to the border areas of Germany and the Czech Republic. The container terminal in the German town of Wiesau is 33 km away.