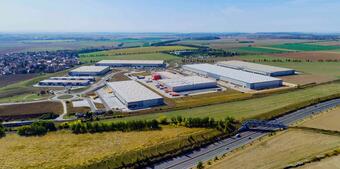 BREEAM is a global independent system for assessing the sustainability of buildings and infrastructure projects. It is the most recognized and oldest method of its kind and accreditation is recognized as a leading standard in the industry. "Outstanding" is the highest achievable rating possible and is awarded when a project achieves a score of at least 80 percent in all categories considered. The success of Building 3 with a total area of ​​37,800 square meters further confirms Prologis' commitment to delivering sustainable properties to our customers in the Central European region . 27,500 square meters have been tailored to EYELEVEL, an international company that designs and equips brand stores for the world's leading retail brands.
Prologis Park Prague-Airport, Building 3, Certificate Handover
"We operate in accordance with our business strategy, which emphasizes leadership in the areas of environmental care, social responsibility and management of all our activities. In this way we are constantly increasing the level of construction throughout the continent, " says Michal Vrba, who led the project .
And this approach works. In continental Europe, there are currently 3 buildings that have received a BREEAM rating of 'Outstanding', two of which are owned and built by Prologis.
In 2017 we received the first evaluation for building 18 in Prologis Park Prague-Rudná. We have thus become the first industrial property developer in the Czech Republic to succeed.
With these two buildings, we now have 14 BREEAM accredited buildings in the Czech Republic: two rated "Excellent", two "Very Good" and eight rated "Good".
Building 3 achieved a total BREEAM score of 88.3 percent . As it is designed, it achieves significant operational savings, such as a 83.5 percent reduction in drinking water wastage, which has been achieved by installing modern water management systems with leak detection. All office space in the building is equipped with heat pumps and underfloor heating, which is one of a kind . Ventilation with recuperation also helps to improve the air circulation in the building, helping to optimize the overall comfort of the customer's employees in the workplace. Primary energy consumption was then reduced by 54 percent .
Prologis Park Prague-Airport, Building 3, BREEAM Outstanding
Another applied sustainable solution is cultivation of diverse greenery on outdoor areas. Here are the original types of vegetation: herbs, grasses, shrubs and trees. This allows local animal species, such as insects or birds, to continue to live in their natural habitat. During the construction process of the building, recycled materials or products with a high percentage of recycled materials were used where possible .
Sustainability permeates our entire business. It does not end with the choice of building materials or the achievement of energy and cost savings. It means much more to us - health, comfort and thus creating an attractive working environment for our customers' employees. The availability and retention of a skilled workforce is a top priority for our customers and by offering them active and sustainable solutions we help them stay one step ahead of the future.
Source / photo: www.retrend.cz / BEST Media Company, Ltd. / Prologis, Inc. - EYELEVEL at Prologis Park Prague-Airport