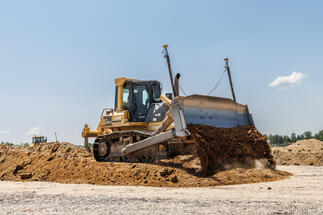 Changes in the development land market were registered by 108 Agency from June 2022, when the Czech National Bank raised the two-week repo rate by 1.25 percentage points to 7.00%. Due to the number of land acquisitions carried out on so-called leverage with the use of external capital, developers began to withdraw from negotiated purchases or postpone them. The increase in the interest rate caused many of them to stop working on their economic plans.
The increased prudence of buyers mainly affected parcels for retail and residential construction, and in the fall also for industrial properties. Surprisingly, however, several plots of land were traded for future office development during this period.
It emerges from the 108 Agency data that, despite the decrease in the volume of closed transactions, in addition to investors in solar power plants, another "old-fashioned" group of interested parties appeared - end owners, respectively users. They took advantage of the price correction to buy plots for the construction of their own real estate, usually warehouses or commercial premises. As a rule, these were companies that did not feel the decline in sales, such as the Asian food distributor Shinfood. However, there was, and still is, obvious caution in this category as well: the fear of the need for bank financing burdened with high interest rates is reflected in the effort to reduce the price of real estate.
The regrouping on the part of the buyers was also reflected in the size of the parcels purchased. While developers aimed for areas from 5 to roughly 30 hectares, end users are most often looking for plots with an area of 5,000 square meters to 3 hectares. However, conditions and prices differ significantly depending on the location. The premium group still includes Prague, Brno, Pilsen and, from a certain point of view, Ostrava. North Bohemia, Liberec and České Budějovice have also been newly added.
"Investors in renewable energy sources, especially photovoltaics, stand outside of all trends. They are ready to buy plots of any size and practically anywhere where there is a sufficiently high-capacity transmission system in addition to pre-approved loans or straight equity. The reasons lie, among other things, in significant state support caused by the energy crisis and EU commitments to increase the share of electricity production from renewable sources. Therefore, an increased demand for green energy partially replacing fossil fuels is expected," explains Michal Diviš from the investment department of 108 Agency. With the fact that "solar" transactions will overshadow the demand of developers this year and will dominate the market. In the case of developers, 108 Agency expects a return to the standard acquisition strategy only in the spring of next year. Of course, provided that there are no unexpected turbulences or other complications in the economy.