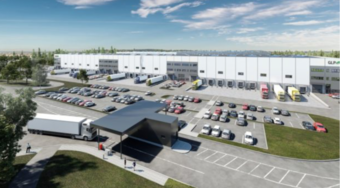 Maximized space for storage or assembly
The individual parts of the complex will be designed in such a way as to maximize the space for storage or assembly with a height of up to 17.4 meters. The park will also include a ceiling system for fire sprinklers, skylights in the loading zone allowing more daylight, a smart metering system, 108 electric industrial doors (one for an area of ​​850 m2), 12 electric entrance gates (one for an area of ​​5,000 m2) or a large parking lot premises.
The complex is located in Ostrava in close proximity to the D1 motorway, which connects Prague and Brno with Poland. Also nearby is the Ostrava Terminal, an important connection to Šenov, providing access to the international railway network. Ostrava is an ideal location for this industrial park, as it offers a large number of potential employees. The location is also easily accessible by public transport. Ostrava Main Railway Station is located about two kilometers from the complex.
GLP will do extensive revitalization and decontamination work
Prior to the start of construction of the project in Ostrava, GLP will carry out extensive revitalization and decontamination work, as the Hrušov chemical plants were once located on-site.
Jan Palek, GLP country manager for the Czech Republic and Slovakia, said: "We are always very happy when we can restore previously unusable land when building new logistics and production centers. We will create safe spaces from them, which will benefit our existing customers, potential new clients, and residents of Ostrava." He added, "The project reflects our growth ambitions in the Czech Republic, which go hand in hand with our program of further development in Central and Eastern Europe. I am sure that there will be great interest in the new industrial park thanks to its transport accessibility and design."
Source:// Systémy logistiky