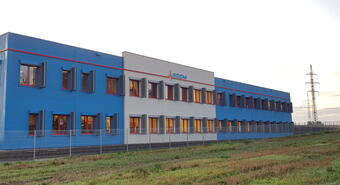 " ECOM is one of the companies that through continuous innovations contribute to the growth of the competitiveness of Czech industry. Logically, therefore, it chose an urban and operationally functional solution for the new building, supporting an efficient production process, " says Miroslav Moj, director of the Swietelsky Building Construction Plant .
According to Jaroslav Formánek, Managing Director of ECOM, the company's goal is to maintain the acquired share in the world market and further increase it. Therefore, it also invested in the construction of new production, development and commercial facilities. This will make it possible to further improve the quality and efficiency of all processes.
ECOM - New company center
The company manufactures instruments that are used worldwide for chemical analysis in a variety of industries such as healthcare, food, chemical industry or in the development and manufacture of pharmaceuticals. All activities, from development to final testing, are provided by itself. That is why individual workplaces are located in the new building so that the material flow is as smooth as possible. From warehouse through assembly of mechanical parts, adjustment, optical parts to running-in and testing of finished products. On the first floor there is a powerful automatic assembly of printed circuit boards with workplaces for their revival, development laboratories and the company management is also located here.
ECOM was founded in 1991 and has been operating in the factory building of the legendary Frič brothers in Prague - Vinohrady. The rapid growth of production and the number of people, however, was already hinting at local possibilities. " Thanks to the new investment and production growth we will be able to hire more employees, " says Jaroslav Formánek . Now the company, which earned 120 million CZK last year, employs fifty-five. This year's production continues to grow - already in July it has received what it had last year.
Source / photo: www.retrend.cz / SWIETELKSY stavební sro