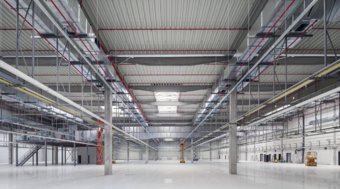 The new park is being developed just 17 kilometres from the centre of Ostrava, the third-largest city in the Czech Republic. It will have a direct motorway link to Opava, Brno, and neighbouring Poland. "The location where the park will be built has a high population density, with access to a large and qualified workforce. In addition, the park will be located close to the Technical University of Ostrava and is only a 20-minute drive from Ostrava International Airport. It will, therefore, be ideally suited for warehousing and light industry," says David Chládek, Construction Director at CTP in the Czech Republic. The company is currently in negotiation with the park's first potential tenants.
CTP has long experience in North Moravia and in Ostrava itself. A well-known example of a CTP development in the region is the IQ Ostrava high-rise near Ostrava city centre, which houses the headquarters of Tieto. For 16 years, CTP has also been managing ctPark Ostrava, which is home to 75 companies, employing more than 7,600 staff. Tenants include Brembo, a manufacturer of high-performance brakes for vehicle and motorcycle, a shared service centre of Moneta Money Bank, and German automotive parts manufacturer Continental. Other tenants include ABB, a Swedish-Swiss supplier of digital technology for industry, and automotive manufacturer Hyundai. ctPark Ostrava illustrates how parks contribute to the prosperity of the region, and CTP has invested over CZK 7.5 billion in the project.
Like other ctParks, the first Ostrava site offers various categories of buildings, depending on the tenant's requirements and their type of business: facilities range from 450 sqm for small companies to up to 3,000 sqm for growing firms, and halls starting at 3,000 sqm for global corporations. Companies also have the option of having larger, custom-made buildings constructed. Premium industrial buildings ensure a high standard for users, and BREEAM certification guarantees energy efficiency. The park provides users with several additional services, such as canteens and cafes. CTP also makes sure there is enough greenery on its sites. At some parks, such as Brno or Bor, in the Tachov district, the company builds accommodation facilities for employees of tenants. The highest building quality and a high environmental standard will, of course, be a given at ctPark Ostrava Poruba.
CTP Invest takes the environmental impact of its activities very seriously. It aims to reach operational carbon neutrality by 2023. The company is modernising properties that it has already built and constructing high-quality new ones. All of them are gradually being certified according to BREEAM or WELL standards. Currently, CTP Invest is also developing several other activities focused on sustainable management. The company has invested in purchasing and planting one million square metres of forest near Mladá Boleslav. CTP's plan is to plant 1 sqm of the forest for every square metre of the built-up area. In the near future, CTP intends to install rooftop photovoltaic power stations at its parks, with the goal to generate over 20 megawatts at its peak (MWp). In a more distant future, ambition stands at 250 MWp.
Source:
Property Forum/Industrial