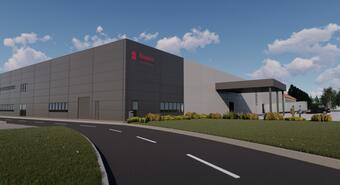 "Eissmann is one of the world's leading brands and we are pleased to welcome it to our industrial portfolio. In the CPI Park Mlýnec area, we will build another modern hall for her, which will revive the premises and bring new jobs to the region, " said Radek Zeman, Division Director at CPI Property Group .
"CPI Property Group is a strong and reliable partner for us. Our success is based on the perfect synergy of traditional craftsmanship and state-of-the-art production processes, so we are very pleased to have found a modern and high-quality facility that new halls can provide, " adds František Plachý , director of Eissmann .
CPI - Hall Eissmann
In the first half of 2020, the new and fully air-conditioned 7000 m 2 hall will begin manufacturing luxury car interiors and bring with it 150 new jobs. The new hall will be built on proven sustainability principles based on BREEAM certification, using innovative solutions that minimize the environmental impact of the building (eg by reducing operating costs, recycling materials, ensuring a healthy indoor environment, etc.).
The area is a former brownfield after the Czech army, existing areas will be gradually used for new construction. Up to 600,000 m 2 of lettable area will be available throughout the premises . The zone has sufficient infrastructure capacity, gas line STL on the site boundary, high voltage on the land, sewage treatment plant and its own source of drinking water. At the same time, the location at exit 136 on the D5 motorway, 6 km from the German border, makes the industrial zone a very attractive location.
"CPI Park Mlýnec is an industrial zone with great potential. We believe that it will soon attract other brands for which we will prepare new buildings. In addition to production halls, we also plan to build a new accommodation facility for workers, " adds Radek Zeman .
Currently, CPI Property Group manages more than 1 million square meters of leasable space for industrial projects with ongoing permitting processes at 9 points of interest within the Czech Republic.
Source / photo: www.retrend.cz / CPI Property Group