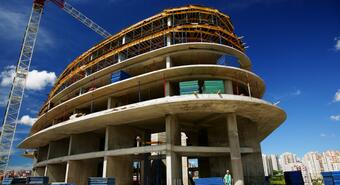 Capacities have a capacity of up to 94 percent. Only 9 percent of construction companies have managed to fully increase their capacity as planned. Due to the high demand, almost two thirds of companies (63 percent) have been able to increase their work prices. However, only a quarter of companies have a positive impact on margins. Especially the rising prices of subcontracting and rising wages are a problem. This stems from the Q2 / 2019 Quarterly Analysis of Czech Construction, prepared by CEEC Research, in collaboration with Saint-Gobain .
Construction will continue to grow this year, but more slowly than last year. Specifically, in 2019, its performance will increase by 2.8 percent. Compared to Q1, construction company directors reduced their forecast by 0.4 percentage point. "The Czech construction industry is currently doing well and the sector's moderate growth will continue until the end of the year. Faster development is not hampered by a lack of work, the problem is the lack of capacity that would be able to realize these contracts. The capacity is up to 94 percent , "says Jiří Vacek, director of CEEC Research .
According to directors, the year 2020 will bring rather positive stagnation in the form of growth of 1.3 percent. This year we expect a slight increase of about three percent, next year I fear stagnation, if not a decline in market power. Tomáš Koranda, CEO, Chairman of the Board, HOCHTIEF CZ a. S. Petr Bělina Chairman of the Board of Directors, Trigema Building, expects moderate growth . " Domestic construction will grow. However, this development will be hampered by the lack of market experts and the pressure on wage and price increases in construction work and materials. "
Revenues from construction companies will grow faster than the market alone, mainly due to rising construction work prices. This year, the directors of construction companies upheld revenue growth of 3.5 percent and continued growth by 2.5 percent in 2020. " Our sales will increase slightly and the Czech construction industry enters perhaps less stormy predictable price growth." Martin Podzimek, company director, Podzimek a synové sro.
The closest major cooling of the construction market is expected by directors in 2021 (33 percent) or 2020 (31 percent). 15 percent of CEOs expect cooling in 2022 and 12 percent later. 47 percent of construction companies are preparing for the possible market cooling down. One third of directors (34 percent) focus on long-term contracts, and more than one tenth (13 percent) of companies do not increase staff.
A key issue for construction companies remains a lack of procurement capacity. Only 9 percent of construction companies have managed to fully increase their capacity as planned last year. 37 percent of directors announce a partial increase in capacity. An absolute majority indicates only a minimal increase or decrease. " Of course we would like to welcome new employees, because now there is a shortage, but we manage to recruit new employees only on the order of, the better it you probably will not, because the attractiveness of construction, compared with" fabrikovým industry "is very small." Radek Mrázek Chief Executive Officer, Vice Chairman of the Board of Directors, BAK stavební společnost as.
Currently, agency employees use 16 percent of construction companies (41 percent for large companies), and another 15 percent of companies plan to start using them. However, most companies (69 percent) will still only employ their own workers in the future.
Almost two-thirds of construction companies (63 percent) increased their implementation prices by an average of 8 percent. 35 percent of companies have maintained the same prices, with only 2 percent of directors reporting a reduction. "The prices of our realizations are rising slowly compared to the increase in cost inputs. Objectively increasing costs are difficult to apply in competitions and it is very complicated in realization. " František Fryš, Managing Director, SWIETELSKY stavební sro.
S, agrees John Složilová, director of the economic department and member of the Supervisory Board, GEMO as " strike price pushes up mainly the ever increasing cost of labor and increase in prices of construction materials. Generally, we are forced to raise the implementation price by 10–20%. " TomášRosák, Chairman of the Board of Directors, Saint-Gobain Construction Products CZ as has a similar experience . Currently most in masonry work and reconstruction.
Margins increased only by 24 percent of companies compared to prices, on average 6 percent. Levels of margin remained at 60 percent of companies. 16 percent of companies report a drop in margins. The smaller increase in margins despite rising realization prices is mainly due to higher costs. The directors determined the order of cost growth from 1 (highest growth) to 4 (lowest growth). Prices of subcontracting grew the most with the order of 1.99, followed by wages (2.19), followed by materials and machinery.
Source / photo: www.retrend.cz / CEEC Research sro / CEEC Research sro, Title Illustrative Photo (www.pexels.com)