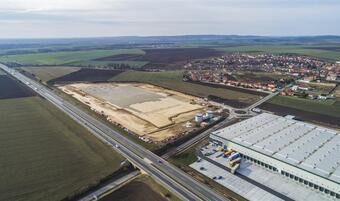 More than half of the warehouses and industrial halls in the Czech Republic are currently being built without pre-secured tenants, according to new data from the Industrial Research Forum. Developers are recording high demand. The share of so-called speculative construction was at similarly high levels just before the last crisis. "There are no open spaces on the market and there is a problem in the desired location to be found in the future. Some locations are already fully saturated and it is not possible to build anything else in them. This leads to an increase in rent and the start of speculative construction, "said Jakub Holec, director of the 108 Agency consulting company, which specializes in transactions in industrial real estate.
However, the current speculative construction is different in nature from the previous crisis. A large part of the space is rented during construction. "When the building is approved or shortly after, the building is already fully leased," the consultant added. At the end of 2018, according to the Industrial Research Forum, 406,000 square meters of warehouse and production space were built. Nearly a quarter of this figure relates to Prague and its surroundings. Speculatively during this period, 54 percent of the area was created. "In locations where vacancy is low, which is an example of Prague, Brno or Pilsen, there is a healthy increase in supply," said Milan Kratina, CEO of the real estate group Accolade.

For example, the US real estate giant Prologis has attracted high demand for new speculative construction in the Czech Republic. At the end of last year, the company announced that it would expand the industrial park near Brno without a secured tenant. "The rapid start of construction of the second speculative building in our Brno park is a response to strong customer demand," said Martin Baláž, vice president of Prologis for the Czech Republic and Slovakia. Overall, 7.8 million square meters of modern industrial space is currently in the Czech Republic.