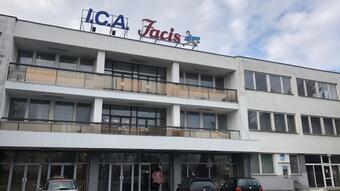 The reason is to move part of production to Serbia. Approximately 30 people should have worked in an Italian property participation garment. These days she decided to release the others.
"Today, ICA, sro, an Italian employer, invited 31 employees to discuss mass redundancies. This is the second group out of 137 employees. The first group of employees was discussed and 106 people were already given notice. Now, 31 employees should be given a statement on July 1, 2019, saying they would physically leave the company in October this year, "said Jozef Balica, chairman of the KOVO Trade Union.
According to Balic, the owner is not yet talking about the liquidation of the company, which will continue. "There will be some two, three administrative staff, because it is necessary to deal with the staff administratively," said Balica, adding that OZ KOVO has taken steps to ensure that employees receive what they have in their employment.
"After the hearing, I called a staff meeting where I informed them of the employer's intention to end production with the remaining 31 employees. They were surprised, they didn't know about it. At the same time, I talked to them about their entitlements in terms of severance pay and notice. They received leaflets and OZ KOVO set up a nonstop information line, "Balica said.
Monthly salary of 480 euros
According to him, the company earned approximately 450 to 480 euros a month on a clean basis. If the employer fails to meet his / her obligations towards employees, the trade unionists make a decision to file a criminal complaint, initiate a labor inspectorate and, if necessary, use the execution to prevent the sale of the property.
Employees who have been dismissed in recent weeks physically leave the factory on July 1st. "Some have already left the agreement. All those who left earlier were paid off. Wages have also been paid to them so far. Although with a delay of one, two days, "added Balica.
Instead of being a logistics warehouse
Facis SpA Milano CEO and ICA, Inc. 99% shareholder Piero Bucalo said in a written statement that the Gruppo Industriale HIB Group focusing on the Group's manufacturing facilities, ICA, sro and Gifrab Ltd in Bulgaria are currently under restructuring.
"The ICA, sro plant in Slovakia should become a part of the logistics warehouse, where Eastern Europe production would be centralized and sorted. The transformation will begin in January 2020 and we expect 50 people to be trained for a new product in March 2020, "Bucalo said.
In his words, ICA, sro will continue to operate, with workers being dismissed and leaving some administrative staff. Current commitments and wages will be paid to employees according to Bucal.
Source: www.aktuality.sk