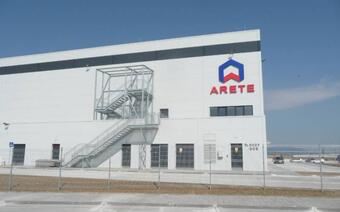 The new warehouse in which Factcool has been operating since June offers storage on an area of ​​17,300 m2. At the same time, the construction of the new hall expanded the infrastructure of the entire New Town area, where 49,000 m2 are now ready for further immediate construction.
"The Slovak market is strategic for the further development of our fund. After the acquisitions we have made in the last two years, we have also started our own development. We completed the new Factcool storage hall on time, without exceeding budget and in full quality. It proves that we can expand our real estate portfolio by our own construction. It is important to us because we are an active investment fund and in this way we are able to significantly increase the value for our investors, " said Lubor Svoboda, co-founder and chairman of Arete Invest's board of directors .
"Thanks to its excellent location, Arete Park Nové Mesto was chosen as the headquarters for our further expansion. The location is unique with the availability of manpower and accessibility to the motorway network. In addition, our new central warehouse reflects all modern trends in industrial properties, " says Jan Skopeček, director of FC ecom, sro, active in the Factcool Group .
The new modern warehouse at D1 in Nové Mesto nad Váhom has been operating the Factcool Group since June 1 and is gradually consolidating its operations for the Central and Eastern European market. Construction of the building started last July. On an area of 17,300 m 2, it offers storage in the hall with a useful height of up to 17.3 meters. The lease is concluded for 10 years from the completion of the hall. The new tenant will create more than 100 jobs in the park.
Arete Park Nové Mesto will continue to expand
Demand for storage and manufacturing facilities in Slovakia is steadily growing, and the vacancy rate of leasable space is even significantly lower in the New Town on the Váh region than in the rest of the country. The Arete Park Nové Mesto is therefore now ready additional 49,000 m 2 area with building permits, which is designed to stop immediately.
With the construction of the Factcool hall, all the necessary infrastructure for new buildings has been built. "Negotiations are underway with other tenants who could occupy the remaining open space for construction," said Taty Novotny, member of the Arete Invest CEE II Sub-Fund's investment committee responsible for asset management.
The site in New Town nad Váhom was bought by Arete Invest two years ago from Prologis. Trade with its financial volume ranked among the largest real estate transactions of 2017 in the Slovak industrial sector. The completed part of the complex is 100% leased to C&A, Raben Logistics and Vetropak Nemšová with an average lease length of 5.3 years, which is a unique value on a purely logistic site.
Source / photo: ARETE INVEST investment fund with variable basic capital, as