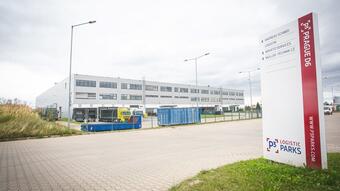 "There was a lot of interest in renting the hall, because there were really only a few similarly large areas near Prague on the exhausted industrial real estate market. We are very pleased that the last vacant space in Stochov will be occupied by the Euromedia Group, which will equip the hall with brand new and timeless technologies. This will correspond very well with the new building built from the most modern materials and with the BREEAM Excellent certification, which guarantees a high degree of sustainability, low operating costs, energy efficiency and a healthy environment for its users, "says Aleš Zacha, Head of Development at Czech P3. In a relatively short period of time, the new hall, which was added to the existing P3 only recently, was completely filled.
The hall is largely tailored to the tenant's ideas. "We are planning to build a state-of-the-art robotic warehouse based on AutoStore technology, supplied by Element Logic. With the growing number of customers and the demand for goods, the demands on efficiency and productivity are increasing, and we will be helped by robotics, which will also bring significant space savings, streamline work and reduce errors in the preparation of shipments. The introduction of the latest technologies will help us maintain a high quality of services and we will be able to further develop to the satisfaction of our customers, employees and investors, "says František Mala, CEO of Euromedia Group.
"The attractiveness of the offered location and the high quality standard of the building, which will aspire to the BREEAM Excellent award, correspond to the volume of investment that the tenant makes through the installed technologies. We are glad that, despite the limited offer of large areas around Prague, we managed to find a suitable solution for tenants, "says Ivana Watson, CBRE's real estate consultant for industrial and logistics properties.
Euromedia Group was founded in 1991 and is one of the largest companies operating in the book market in the Czech Republic. Own publishing brands Kalibr, Ikar, Odeon, Universum, YOLI, Esence, Pragma, Laser, Brána, Listen and Pikola, the Témbr brand, which is dedicated to the production of audiobooks, and the Luxor bookstore network. In addition, it is the Czech leader in distribution and operates the largest book wholesaler in the country, which supplies leading chains.
The P3 Prague D6 logistics complex is located in Stochov, Central Bohemia. It boasts excellent transport accessibility from Prague and Kladno. Thanks to the proximity of the D6 motorway from / to Karlovy Vary or Leipzig, it suitably complements the portfolio of P3 parks in the wider vicinity of Prague.