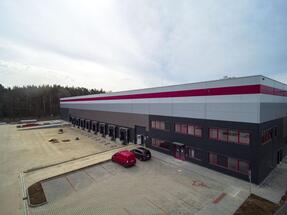 ALLLOG Consulting is one of the two confirmed tenants in P3 Plzeň Myslinka. For its clients, mainly from the automotive sector, it leased almost 6,200 m2 in the new park. "We offer our customers the highest level of service, and not only in the area of storage. We also provide short-term rentals for our clients, thus helping them cover peak periods of overflow of materials or the start of new projects. In the near future, we will be able to offer our customers a capacity of up to 12,500 pallets in the Myslinka park," said Zdeněk Dydek, CEO of ALLLOG Consulting.
"The interest in industrial premises in Pilsen is still very strong. This is also proven by the demand of ALLLOG, which needed additional capacity for its existing clients and found the most suitable space-time solution in P3 Park Myslinka," added Martin Šumera from Space Brokers, who mediated the contract with ALLLOG Consulting.
The Czech carrier ICOM transport is also moving to the industrial park outside Pilsen, which has leased 3,500 m2 there. "The offer of space in P3 Plzeň Myslinka, support from Knight Frank and a quick agreement, all this helped us to start operations in a fairly short time. All after less than two months from the first contact, I think this shows the high professionalism of all three participants," added Tomáš Cafourek, director of the Jihlava division of ICOM transport.
The developer P3 Logistic Parks responded to the high demand for warehouse and production space in the Pilsen region a year ago by building a new area near the village of Myslinka. In total, there are five halls with a total leasable area of almost 64,000 m2. Units from 3,500 m2 to 30,000 m2 will be available to potential tenants. In the first stage, two halls with an area of 7,000 m2 and 9,600 m2 were created.
All halls meet the high standard of BREEAM Excellent certification. Heated bridges, high-quality insulation and the use of LED lighting represent energy savings, and a more environmentally friendly approach is fulfilled by the use of more sustainable building materials and the planting of greenery that respects the local species composition.