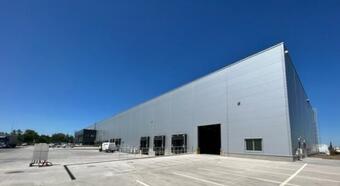 Alliance Healthcare, which will merge with AmerisourceBergen under the unified Cencora brand this year, is moving within Hradec Králové from its existing premises to a new 6,500 sqm warehouse. This was built for the company by the developer HOYA based on specific requirements and needs.
Alliance Healthcare's distribution warehouses are strategically placed in all key Czech locations: Prague, Brno and Ostrava. The company wanted to stay in Hradec Králové for its proximity to the D11 motorway.
Roman Keller, Chief Operating Officer of Alliance Healthcare, said: "We were looking for a warehouse with a capacity of at least 6,000 pallet places near our former premises in Hradec Králové, which could also accommodate our existing branch, where we store and prepare goods for pharmacies and hospitals mainly from shelves. The location had to suit our employees and customers in and around the Hradec Králové and Pardubice regions. Thanks to the excellent cooperation with HOYA, we have a hall tailored exactly to our specifications, which perfectly meets all the requirements for the distribution of medicines and pharmaceuticals. We have a distribution warehouse as well as sufficient pallet spaces for 3PL pharma logistics, and capacity in both ambient and refrigerated areas, including space for opiates."
Stanislav Palas, HOYA, commented: "We are delighted to hand over the completed construction of a modern and spacious warehouse to a prospective tenant, Alliance Healthcare, and contribute to the development of business activities in the region."
The size of the hall allows the tenant to efficiently store and manage goods and handle large volumes. It is highly flexible and equipped with modern technology. Its strategic location in the industrial zone of Březhrad Hradec Králové, close to the main transport arteries, is advantageous for both the transport and distribution of goods. It is another successful project for HOYA, which specialises in the construction of modern industrial and commercial buildings.