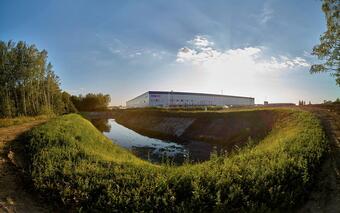 "According to analysts' estimates, the demand for modern business premises will continuously increase. CBRE reports that 64% of the top logistics companies surveyed consider expansion in the metropolitan area an absolute priority. Almost half are not averse to previously overlooked locations. As you know, we have made many of the logistics and e-commerce hubs in the Czech Republic and Poland. Let Szczecin or Cheb region be an example. If we look at the second key segment of today, online shopping, thanks to the dynamic development during the pandemic year, its share in the total retail in the Czech Republic has risen to a record 16%. Given that today about 60% of our portfolio is already directly linked to logistics and e-commerce, I think that we are also facing not only the expansion of existing successful locations but also the discovery of new centers of modern business," comments Milan Kratina, Chairman of the Board of Accolade Industrial Fund.
"But it's not just about transport and online shopping. Within our Fund, we are seeing a long-term trend where modern halls are increasingly attractive to tenants who have manufacturing operations with added R&D value. As is the case with our latest acquisition in Bochum, Germany, where international rail equipment manufacturer and supplier Faiveley has moved in and 50% of its 20,000 sq m is dedicated to the manufacture, development, and research of unique braking systems. In the coming years, European short line travel can be expected to shift partly from aircraft to rail. This transaction only confirms the trend towards a greater emphasis on 'engineering' and, at the same time, a greener way of traveling. At the same time, the acquisition of a park in the most important industrial area of the Rhineland near Dortmund, Essen, and Düsseldorf is another important step not only in balancing the tenant sectors but also in the geographical diversification of our portfolio. In fact, in addition to the domestic basin and Poland, we also have our first western market in our Fund," Kratina adds.
Several interesting projects are ready for acquisition by the Fund in the next six months, including expansion of existing sites in the Czech Republic and Poland. At the same time, the Fund will soon welcome its first property on the Slovak market. Overall, Accolade Fund is targeting a portfolio expansion of nearly 300,000 sq m this year.
The Fund continues to grow in all areas observed. As of 30 April 2021, its portfolio consists of 970,367 sq m of leasable space for modern business, 17 sustainable industrial parks, used by 66 global tenants. The total value of the Fund's portfolio reaches almost EUR 756 million (est. 20 billion CZK).
Source:// Accolade